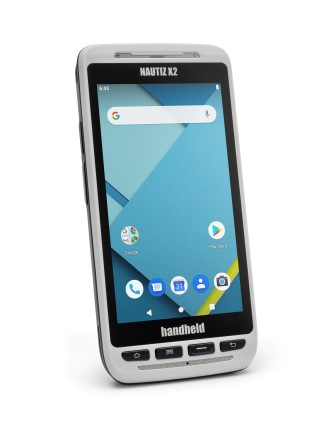 The Nautiz X2 is the perfect blending of a smartphone and a rugged handheld, a true all-in-one: a computer, a scanner, a camera, and a phone. It runs the Android 11 operating system. With its small size and light weight of only 8.11 ounces (230 grams), it is in a class with most popular smartphones — but with ruggedness unmatched by any consumer device. The Nautiz X2 meets stringent MIL-STD-810G military standards for withstanding humidity, vibration, drops and extreme temperatures. And with an IP65 rating, the Nautiz X2 is fully waterproof and impervious to dust and sand.
The 4.7-inch, 1280x720 capacitive multi-touch screen is sunlight-readable and scratch-resistant. On the Nautiz X2's rear face, an 8-megapixel autofocus camera and flash allow you to take crisp photos, even in dark environments.
The Nautiz X2 has all the communication functionality you need; use it as a phone or send and receive data over WLAN, BT, 4G/LTE and NFC. And Google GMS gives you full access to Google Maps and Google Play Store apps.
The Nautiz X2 comes with a high-quality, high-speed 1D/2D scanner with three dedicated scan buttons to read all major barcodes.
Add-on / Upgrade options by 2DTG:
Barcode Decoder for DPM/Dot Peen applications
Brand Protection and anti-counterfeiting: Data Matrix Authentication and/or Encryption