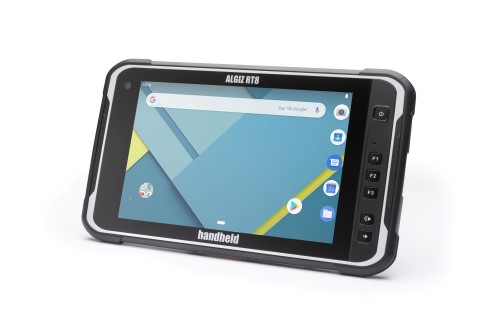 Elegant, expandable, ultra-rugged and powerful 8-inch Android 11 Algiz RT8 tablet designed for work in demanding environments. Size and weight alone mean that this computer can go places where larger systems aren't practical. It features multiple connectivity options and a wide range of functionality, including data collection capabilities.
Product advantages:
PERFORMANCE - based on a 2.0 GHz Qualcomm 625 MSM8953 "Snapdragon" 8-Core processor, with 4 GB / 16 GB RAM & Storage, the Algiz RT8 supports all the features that matter in this class of tablet.
RUGGEDNESS - Algiz RT8 carries IP67 sealing and it also passed the MIL-STD-810G military standards for protecting against dust, water, vibrations, drops, and wide operating temperature range from -4 to 140 degrees Fahrenheit.
8-INCH DISPLAY (1920x1200) capacitive multi-touch (10 points), sunlight readable with glove/rain mode and Corning® Gorilla® Glass is perfect for field professionals - so collecting data in bright sunlight is just as easy as reviewing it indoors
DATA COLLECTION is easy and intuitive with this Algiz RT8 tablet, thanks to the built-in 13-megapixel camera with LED flash and several connectivity options. It may also have optional Barcode Decoder with Scan Wedge capabilities utilizing rare-view camera, which extends Algiz RT8 usefulness to Product Lifecycle Management, Supply Chain systems and warehousing.
WIRELESS CONNECTIVITY - LTE compatibility keeps your team connected without lag time, anywhere you go. And the Algiz RT8 houses NFC functionality, an integrated stand-alone u-blox GPS receiver, accelerometer, gyroscope and eCompass. Stay wired through waterproof physical ports, connect via BT and NFC, or use the docking station which gives you extended I/O capabilities such as HDMI, Ethernet, and more.
The winning combination of ruggedness and portability makes the Algiz 8 perfect for industries such as homeland security, public safety, field service, GIS/mapping, logistics, railways, telecommunications, energy, law enforcement, military, warehousing - just about anything.
Add-on / Upgrade options by 2DTG:
Barcode Decoder (including DPM/Dot Peen capabilities)
Brand Protection and anti-counterfeiting: Data Matrix Authentication and/or Encryption
To add Barcode Decoding/Protection capabilities:
Add Barcode Decoder / Protection SDK to your shopping cart - unit will be delivered with the software installed and licensed, or
If you already have Algiz RT8 – just purchase the license you need from accessory page.