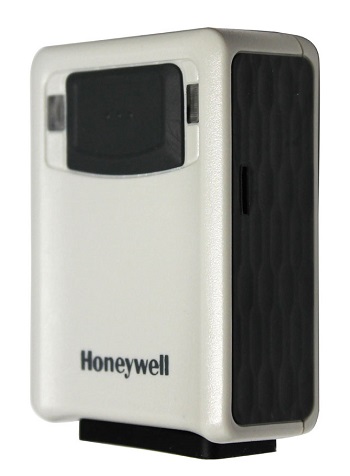 The Honeywell Vuquest 3320g barcode scanner is powered by Adaptus Imaging Technology 6.0 offering aggressive scanning of all 1D, PDF and 2D barcodes in a lightweight, durable and portable form factor.
The Vuquest 3320g can be triggered remotely via external I/O capabilities, opening up new possibilities for its use in the industrial automation. The scanner provides high volume scanning even when reading barcodes on cell phone or LCD screens, has 106 inch per second motion tolerance and can survive rather rugged scanning environments. The small form factor and rubber corners on the barcode scanner protect it from drops of 5 feet, while the body itself is IP53 sealed against dust & water splashes.
The Vuquest 3320g hands-free scanner's sleek and elegant design also blends seamlessly in retail environments. With intelligent multi-interface design, this image scanner supports popular interfaces on a single device. Honeywell offers various license packs for the scanner, allowing you to add functionality such as driver's license parsing or OCR as needed.
Upgraded with DPM (Direct Part Marking) Plugin by 2DTG, the Vuquest 3320g demonstrates strong DPM / Dot Peen performance on par with the industry leading specialized DPM scanners. In essence, it's a portable DPM Reader for the fraction of DPM platform cost.
Packaging / Shipping:
The Vuquest 3320g ships pre-configured in a few configurations, ensuring you only pay for the features/options you need. DPM Plugin or DMPS Plugin upgrades can be added (uploaded) to any configuration. It comes with a 2-year warranty, and Honeywell offers extended service contracts with comprehensive coverage
Most configurations can be shipped within 1-2 days. Some configuration may require special order from manufacturer. Software upgrades (SW-EIO..., SW-OCR...) and TotalFreedom Apps from Honeywell may take up to 7 days to deliver. Please include Serial Number of your device into your order if you are buying just software upgrades/apps only.
Please contact Customer Support for product lead time.