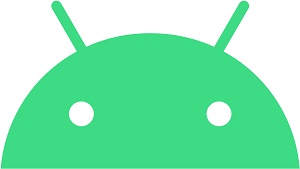 2DTG offers Barcode decoder suite and SDK for Android™ (Android is a trademark of Google LLC) adapted for mobile platforms equipped with rear view camera (smartphones, PDAs, tablet PC's, mobile computers, etc.) powered by Android 8.x and higher. It's shippped as a perpertual RTL license or time-limited (1 year) renewable one. The decoding software is the same - only licensing terms are different.
(The Android robot is reproduced or modified from work created and shared by Google and used according to terms described in the Creative Commons 3.0 Attribution License)
"Barcode decoder package for Android" includes "ready-to-go" apps for data collection and decoding SDK:
| | | | | |
| --- | --- | --- | --- | --- |
| Barcode Decoder Suite for Android: | ScanWedge Barcode Decoder | Bluetooth Barcode Decoder | Barcode Reader | Barcode Decoding SDK |
Keyboard Wedge Barcode Decoder APP - powerful, automated data-collection system for Android platforms. It provides real-time data acquisition and forwarding it to Office applications, databases, and custom-built systems installed on your mobile device. Now with enhanced keyboard layout for data collection applications.
Bluetooth Barcode Decoder APP - data collection tool for the industrial and office applications.
Barcode Reader APP to demonstrate software performance on mobile Android platforms.
Barcode Decoding SDK – decoding library and sample project, for building your own application.
Both applications and SDK utilize our barcode decoding libraries - Data Matrix (Enterprise Edition), QR Code, 1D Barcodes, Aztec Code and PDF417. The symbologies can be auto-selected by the Library / Decoder or selected manually prior to decoding from the Settings Menu (to speed up decoding process).
Data Matrix decoding library and decoder include "Dot Peen capabilities" extending their use to DPM (Direct Part Making) area (#Gallery).
2DTG's barcode decoding libraries for Android are GS1 compliant - they return Symbology Identifier that can be used by GS1 users when building their applications.
No external PC or additional scanner is required for data collection!
Price Models: