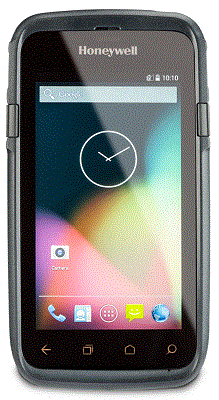 Honeywell CT60 features 2.2GHz octa-core Qualcomm Snapdragon 660, 3GB or 4GB of LPDDR3 RAM and 32GB of Flash storage. If more is needed, there's a micro SDHC card slot. WIFI is of the speedy 802.11ac variety, Bluetooth is at Version 4.0, and there's a 13-megapixel camera that can also record 4K video with image stabilization. And the CT60 has no fewer than six sensors (light, proximity, magnetometer, gyro, accelerometer, pressure).
This model comes with Android 7.1.1, but Honeywell's "Mobility Edge Platform" promises support for four generations of Android — Nougat through Q.
1D/2D scanner - next generation of Adaptus imaging technology represented by unique, ultra-portable N66XX scanning engine.
Upgraded with DPM (Direct Part Marking) Decoder by 2DTG (BD-A-CT60|50) for Android OS), the Dolphin CT60 demonstrates competent DPM / Dot Peen performance on par with the specialized DPM scanners, making it well suited for many industries that require DPM reading when performing data collection tasks.
Another "Add-On" feature, offered by 2DTG, is Mobile Data Matrix Security Decoder fashioned for Dolphin CT60 powered by Android (DMPS-D-A-CT60|50). DM Security Decoder features DPM/Dot Peen capabilities as well (along with Authentication/Decryption).
DPM / Dot Peen and Data Matrix Security upgrades can be added to any computer configuration.
Dolphin CT60 ships with 1-year warranty from Honeywell. Most configurations can be shipped within 1-2 days. Some configuration may require special order from manufacturer. Please contact Customer Support for product lead time.