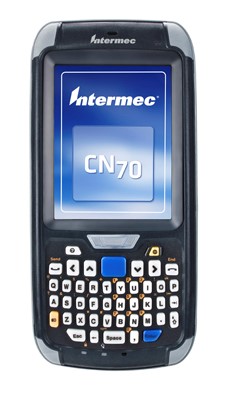 The CN70G and CN70eG are just two models out of four available in the Government restricted 70 Series family by Intermec. Their design is optimized for field mobility environments. Specifically, the CN70G is optimal for mobile field service and transportation workers who need power and performance in a compact form factor. The CN70eG offers the same power-packed computing but comes with a larger keypad design making it ideal for more data input intensive applications. Both models are IP67 rated and have exceptional battery life for long device run time without extra size and weight.
The CN70 is the lightest and most compact of the CN70 Series, using the standard Pocket PC/PDA form factor. The CN70 can be ordered either with a 29-key numeric keypad or with a 44-key QWERTY layout. Both are backlit. CN70e features Large numeric keypad with backlit shifted plane legends.
For scanning, the CN70/70e uses the EA30 high-performance motion tolerant 2D Imager that features white LED illumination, a red laser aimer optimized for all lighting conditions, a 35 degree downward scan angle, and is capable of scanning all common 1D and 2D barcodes.
Overall, CN70G/CN70eG base configuration includes:
TI OMAP3 1GHz processor, 512 MB RAM, 1 GB Flash ROM, Windows Embedded Handheld 6.5 Premium OS, Dual-Band WLAN, EA30 High-Performance 2D Area Imager, Battery Pack, Non-Incendive certification, FIPS certification.
Packaging / Shipping
CN70G/70eG carries 3-year factory warranty and comes pre-configured in multiple configurations, ensuring you only pay for the features/options you need. Options include choice of Keypad, Wi-Fi and Bluetooth, and RFID Scanner.
All CN70G/CN70eG models (configurations) do not feature Camera and WWAN Radio; factory pre-ordered; ship within 8 weeks.
Required Accessories: Docking systems for charging and associated power supplies.