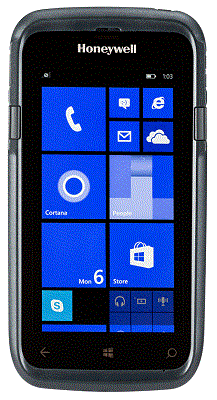 Dolphin CT50 is a modern, versatile, IP67 rated mobile computer designed for transport and logistics, field service, and warehouse environments. Unlike Honeywell's Dolphin 70e and 75e that are considered as more rugged version of consumer smartphones, the CT50 places more emphasis on the handheld computer side. Its footprint is roughly that of an Apple iPhone 6 Plus in a protective case. Designed to be far more durable than consumer devices add weight, but at just over 12 ounces. OS - Windows 10 IoT Enterprise Mobile.
It has the same 2.26GHz quad-core Qualcomm Snapdragon 801, and the same storage - 2GB of LPDDR3 RAM and 16GB of eMMC Flash, as Dolphin 75e. On communication side the CT50 includes virtually all varieties of 3G and 4G LTE mobile broadband, as well as WiFi of the 802.11ac variety and Bluetooth at Version 4.0. Voice over IP is supported, as well as Push-To-Talk. There's also integrated GNSS (GPS and GLONASS).
In addition, the CT50 equipped with six sensors (light, proximity, magnetometer, gyro, accelerometer, pressure), an 8-megapixel camera and has multiple input mode capabilities - speech, stylus, and touch. And that's on top of NFC communication and built in 1D/2D scanner that features next generation of Adaptus imaging technology represented by unique, ultra-portable N66XX scanning engine.
Dolphin CT50 ships with 1-year warranty from Honeywell. Usually can be shipped within 1-2 days. Some configuration may require special order from manufacturer. Please contact Customer Support for product lead time.