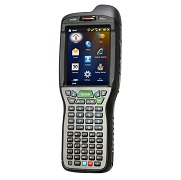 Honeywell's Dolphin 99EX mobile computer provides cutting-edge wireless technology, user-friendly ergonomics and multi-functional data capture for front-line workers operating in both indoor and outdoor environments. Purpose-built for transportation and logistics applications, the industrial Dolphin 99EX mobile computer has superior durability.
Healthcare version - Dolphin 99EXhc - equipped with a disinfectant ready housing - ideal mobile computer for healthcare environments where protocol requires harsh cleaning agents.
Honeywell offers a variety of configurations, ensuring you only pay for the technology you need. Each configuration includes standard features, as follows:
TI OMAP3715 1.0 GHz processor
512 MB RAM x 1 GB Flash memory
Microsoft Windows Embedded Handheld 6.5 (Professional/Classic)
Adaptus Imaging Technology: N5600/5603 Standard range (SR) and Extended range (ER) imagers
Wi-Fi (802.11a/b/g/n) and Bluetooth technologies
and variable attributes like battery pack, GPS and CDMA, GSM options.
Upgraded with DPM (Direct Part Marking) Decoder by 2DTG, the Dolphin 99EX demonstrates competent DPM / Dot Peen performance on par with the specialized DPM scanners. In combination with its IP67 rating, DPM Decoder makes Dolphin 99EX well suited for many industries that require DPM reading when performing data collection tasks.
Another "Add-On" feature, offered by 2DTG, is Mobile Data Matrix Security Decoder (DMPS-D-WEH) fashioned for Dolphin 7800, 70E, 99EX/GX, 6500 powered by Windows Embedded Handheld 6.5. Along with Authentication/Decryption, DMPS-D-WEH features DPM/Dot Peen capabilities as well.
DPM Reader or Barcode Security upgrades can be added to each configuration (Dolphin 99EX Standard Range version (higher resolution) might be preferable for most DPM applications).
Dolphin 99EX ships with 1-year warranty from Honeywell. Most configurations can be shipped within 1-2 days. Some configuration may require special order from manufacturer. Please contact Customer Support for product lead time.