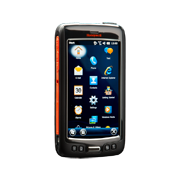 The Dolphin™ 70e/75e, Honeywell's enterprise hybrid device, successfully marries the size, style and usability of a consumer device with the reliability and longevity of a traditional rugged hand-held. It's a cross between a traditional Pocket PC and a modern smartphone.
Dolphin 70e ships with either Windows Embedded Handheld 6.5 - by far the most common OS in vertical and industrial markets - or with Android 4.0. If the Windows operating system is initially purchased, it can easily be transferred to the Android system later on. Despite its "smartphone look" Dolphin 70e is an enterprise-grade device, having some important features that are not available in those smartphones. Its integrated imager provides bar code scanning performance (decode speed) superior to that of the camera scanning applications. It carries IP67 sealing and hence provides superior protection against water and dust. In addition, the Dolphin 70e can be operated in extreme temperatures as low as -20° C (-4°F) minimizing downtime associated with conditions.
The Dolphin 75e is a step forward from the 70e version. The old 1GHz single-core processor has been replaced with a 2.26GHz quad-core Qualcom Snapdragon 801, storage has been vastly expanded from just 1GB to 16GB, WiFi is now 802.11ac, the camera is now 8-megapixel, and where in the old 70e sensor technology was represented by just a single accelerometer, the new 75e is brimming with five of them (light, proximity, compass, gyro, accelerometer). The 75e ships with either Windows Embedded 8.1 Handheld and, of course, carries IP67 sealing.
Upgraded with DPM (Direct Part Marking) Decoder by 2DTG (DPM-EH for Windows Embedded Handheld and BD/DPM-D-A for Android OS), the Dolphin 70e/75e demonstrates competent DPM / Dot Peen performance on par with the specialized DPM scanners. In combination with its IP67 rating, DPM Decoder makes Dolphin 70e/75e well suited for many industries that require DPM reading when performing data collection tasks.
Another "Add-On" feature, offered by 2DTG, is Mobile Data Matrix Security Decoder fashioned for Dolphin 7800, 70E, 99EX/GX, 6500 powered by Windows Embedded Handheld 6.5 (DMPS-D-WEH) and for Dolphin 70E powered by Android (DMPS-D-A). DM Security Decoder features DPM/Dot Peen capabilities as well (along with Authentication/Decryption).
Both DPM and Data Matrix Security upgrades can be added to each configuration.
Dolphin 70e/75e ships with 1-year warranty from Honeywell. Most configurations can be shipped within 1-2 days. Some configuration may require special order from manufacturer. Please contact Customer Support for product lead time.