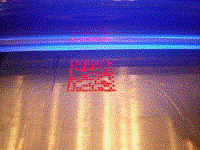 2DTG offers UV (Ultra-Violet) and IR (Infrared) scanners as an integral part of Barcode Protection strategy, supplementing content security - Barcode Security Suite – with safeguarding the label from direct copying.
UV (or IR) printed barcodes have become a popular method of adding security marks to products and documents. The Ultra Violet illumination and enhanced optics are able to see the 'invisible' barcode marks printed with UV fluorescing inks. Fluorescence occurs when the absorbed radiation is in the ultra-violet region of the spectrum, and thus invisible to the human eye, while the emitted light is in the visible region, which gives the fluorescent substance a distinct color that can only be seen when exposed to UV light.
Fluorescent technology in barcode printing provides their comprehensive protection from direct coping (using copy-machine, for instance) and that is why this method is particularly popular with government agencies, pharmaceutical industry, any agency in need of protecting documents from copying and tampering. It does not protect the content of the barcode, though. That is why the combination of 2DTG's authentication/encryption methods with fluorescent technology provides the best overall protection for your brand/product/ document: "Authentication - Encryption – Validation".